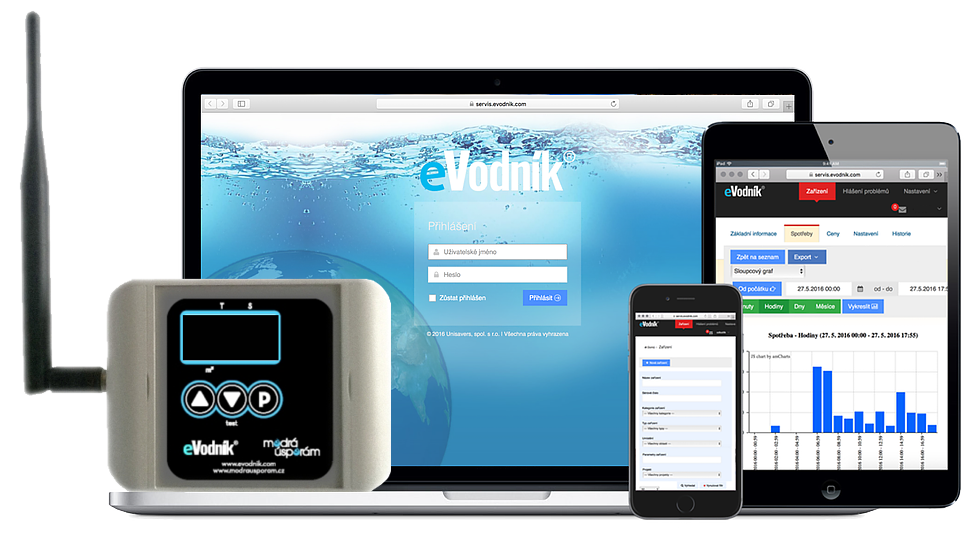 Have you ever been flooded out?


 Do you pay high water bills and don't know why?


 Do you pay for water leaks you don't know about?


 Are your water supplies in the ground and wall under your control?


 Do you know what a leaky toilet or faucet could result in?


 Has the hose from your toilet, faucet, washing machine, etc. ever burst?


 Has your bathtub overflowed, have you or your children failed to close a faucet properly?


 Would you like to have peace of mind, with your consumption and water flow under control online?
Introducing the 

e

Vodník® system
eVodník® is a Czech electronic device designed to automatically eliminate the aforementioned problems and many other possible ones in the water pipes and devices connected to them in flats, houses, commercial premises, office buildings, archives, studios, data centres, educational, social and medical facilities, sub-areas, and wherever you would not want water to damage/destroy your property and cause a hole in your wallet due to unwanted water "consumption".
eVodník® protects your property 24/7/365 against flooding
eVodník® eliminates water leaks you do not know about but still pay for
eVodník® can communicate with your Electronic Security System (ESS)
eVodník®  monitors and reports the water consumption in your building online
eVodník®  immediately informs you about actions taken to prevent water damage via e-mail and SMS
eVodník® uses its own original VTS web application for water management
Thanks to the connection with our original software, eVodník® can identify and report in detail your water consumption.
eVodník® is able to control the water consumption and, in the event of water piping disturbances, the water supply is automatically closed.
eVodník® thus prevents any accidents, unwanted water leaks and resulting financial damage.
eVodník® is the original Czech product!
e

Vodník® assemblies and their designation
e

Vodník® HOME

e

Vodník® BUSSINES
flats, houses, cottages
commercial premises, office buildings, kindergartens, schools, social and health facilities, studios, museums, archives, data centres, industry and many other entities
e

Vodník® Tariffs of Remote Technical Management (VTS)
tariff
consumption history
email alerts
SMS notification
monthly reports
data exports

e

Vodník® BASIC
 one month
 no
 no
 no
 no

e

Vodník® STANDARD
 three months
 yes
 no
 no
 no

e

Vodník® COMFORT
 one year
 yes
 yes
 no
 no

e

Vodník® PREMIUM
  unlimited
 yes
 yes
 yes
 yes
All tariffs allow full remote management of the equipment
For more information use our non-binding request form in the contacts section.